Report on Local Training Sessions for Treinee municipalities and Conurbation towns
10/12/2012
Category: Public deliverables
User: Municipality of Vicenza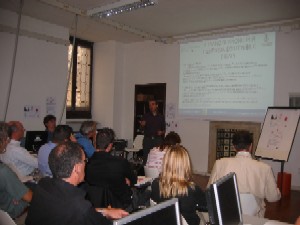 Since only 2 people per partner and some representatives from Conurbation towns will participate in the centralized training courses, Trainee Municipalities were required to organize two 1-day local training courses for their collegues and Conurbation towns in order to share the content of the 2 centralised sessions and start disseminate the new knowledge acquired.
These activities were very important to make sure that the Trainee Municipality have a diffused knowledge and know how and that the political sector was involved as well.
This local training, in fact, was targeted to officers, technicians and policy-makers and was not be limited to the 'Energy Office' or 'Energy Department'. This was the first action that involves officers, technicians and policy makers from different sectors, departments, etc., that is: energy, environment, mobility, building, territorial planning departments etc. depending on local structures.
Files