SEAP of Timisoara Municipality has been approved on 11 November 2014
13/11/2014
User: Primăria Municipiului Timişoara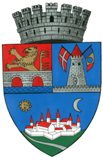 The Sustainable Energy Action Plan for Timisoara Municipality has been approved by the City Council on 11 of November 2014.
This is the biggest achievement of Municipality of Timisoara in the context of CONURBANT Project.
The SEAP implementation and monitoring team, appointed by the Mayor, has been developed the first monitoring report for the measures and actions already implemented between 2011 and 2013.
Link: http://www.dmmt.ro/index.php?meniuId=28&viewCat=622&lg=ro
Files