Sustainable Energy Europe and ManagEnergy Awards 2014 - CONURBANT project between the 30 nominees
25/06/2014
User: Municipality of Vicenza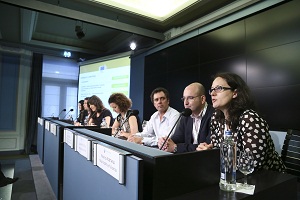 Learning
Projects in this category are carried out to improve knowledge and skills related to energy efficiency and renewables. They are usually carried out by official training and education bodies, such as schools, universities, training centres etc.
CONURBANT was in this category one of the 5 final nominees and participate not only at the Award Cerimony but also at
Sustainable Energy Europe & ManagEnergy Awards 2014 Action on the Ground: Assessment Session and Interactive Exhibition
An official High Level Policy Conference Side Event
How were this year's nominees and winners selected? What's special about the 2014 short-listed and winning projects? Want to meet nominees and winners and bring home new project ideas? This event is for you!
In addition to policy-level debates, the EU Sustainable Energy Week is also about encouraging action on the ground. Showcasing successful case studies in renewable energy, energy efficiency and clean transport is essential to inspire others and boost replication. The European Commission's Executive Agency for Small and Medium-sized Enterprises (EASME) is organising an HLPC side event to meet that goal.
The 30 projects shortlisted for the 2014 Sustainable Energy Europe and ManagEnergy awards (five for each SEE category and five for ManagEnergy), will be the focus of this very special event. A dedicated exhibition will welcome attendees at the patio of the Residence Palace, Wednesday 25 June as from 8h30. Large branded banners will be displayed, offering visitors the opportunity to discover the very best of this year's competition.
From 9h30 to 11h, a panel discussion, content-dissemination session will provide technical assessment about each project. Members of the Technical Advisory Committee, the set of nine experts which assessed this year's 342 submitted entries, will provide insights on each project and highlight its added value (speakers TBC). An interactive Questions & Answers session will follow, taking place around the exhibition with the presence of a representative of each nominee and winner. Attendees will be able to intervene as the session will be scheduled across each award category, which will maximize thematic debates and targeted networking opportunities and give all 30 nominees a chance to put themselves forward.
Note: what are the project categories? Buildings (LIVING), mobility (TRAVELLING), energy efficiency and production and consumption of renewable energies (CONSUMING), capacity building actions for students and professionals (LEARNING), raising awareness actions (COMMUNICATING) and actions at the local and regional level by public authorities and energy agencies (MANAGENERGY).
Link: http://www.eusew.eu/awards-competition/awards-2014