Development of SEAPs and peer-to-peer approach
10/12/2012
Category: Public deliverables
User: Municipality of Vicenza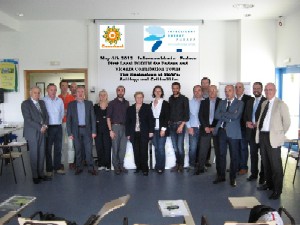 This part of the project is focused on the partner Municipalities becoming signatories of the Covenant of Mayors as well as starting their work with their Conurbation towns signing the Covenant as well, preparing an inventory of GHG emissions, preparing and implementing a Sustainable Energy Action Plan involving the whole community through a participatory process.
This activity aims at having as many Municipalities as possible sign the Covenant and being engaged in the partner urban areas.
There are 8 Trainee Municipalities with 32 Conurbation towns, 2 Tutoring Municipalities with 8 Conurbation towns (total of 40 conurbation towns), and 5 technical experts  involved in this activity.
Tutoring Cities, which have already signed the Covenant, are working at local level with their conurbation towns.
Tutoring Cities are supervising Trainee Cities and their Conurbation towns.
At the same time, Trainee Cities are also cooperating with their Twin-trainee city and monitor each other.
In almost all cases (besides Salaspils and Alba Iulia), Tutoring and Trainee cities count over 100.000 inhabitants and alone cover a population of ca. 2 milion people. Counting also their Conurbation towns, the impact of the project reaches a population of ca. 2.5 milion people.
The Cities and Conurbations involved at this stage through direct partnership and letters of intent are:
The 8 Municipality partners are also aiming at having as many Conurbation towns as possible to sign the Covenant in order to create a local cluster of energy efficient Municipalities.
This allows, in fact, easier energy planning and local cooperation. Nevertheless, considering the differences in resources and skills of the Municipalities in each partners' areas local decisions have been taken.
Files