Sustainable Energy Action Planning: Annexes A to E
29/09/2014
User: Ekodoma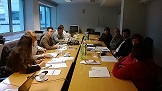 From the start of our projects in 2011, CASCADE, Conurbant, Covenant capaCITY, eReNet and LEAP, were encouraged to work together by Intelligent Energy Europe. All five projects had in common the development and delivery of Sustainable Energy Action Plans and the aim of this inter-partner cooperation was to extend the project based learning and knowledge exchange of the partners to create mutual learning amongst the project leaders.
With peer-to-peer working a key component of all projects, this became the obvious way to share experiences and to compare methodologies, application, successes and lessons learnt. This report has been compiled from the experiences of the five projects and provides analysis and practical advice on how local sustainable energy action planning can be better achieved and strengthened through peer-to-peer working.
The main contributions are from the LEAP and CONURBANT projects with reports on peer-to-peer working, mentoring, work-shadowing, and training to promote the sharing and exchange of lessons on developing and implementing Sustainable Energy Action Plans (SEAPs). The lessons from these two projects are complemented by experiences from the eReNet, Covenant CapaCITY and CASCADE projects, each of which undertook some elements of peer-to-peer working.
Files