Energy Days 2012 Timişoara
18/06/2012
User: Primăria Municipiului Timişoara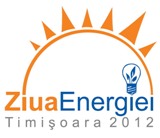 The City of Timişoara will organize in 18th and  19th of June 2012 the second edition of the "Energy Days 2012 Timişoara".
The event aims at debating over current major topics in the field of energy such as energy efficiency, the promotion of alternative technologies for sustainable energy, resources and energy policies, good practices in the environment protection field and necessary actions in order to combat and reduce the effects of climate changes.
The conference will be structured on multiple sections: presenting the strategy regarding climate changes in Timisoara, best practices in the field of energy efficiency, the use of renewable energy sources and the ongoing and future projects of the municipality. 
At the conference will be present representatives of Timişoara twin cities, representatives of universities, research institutes, energy stakeholders, business community, regional and local public authorities. The event  will ensure beneficial occasions to initiate new partnerships aiming to improve the exploitation of resources, develop current projects and promote new ones in the field of energy.  Also, is expected large  the participation of interested citizens.
At the conference will participate representatives of local authorities from  TIMISOARA CONURBATION,  involved in CONURBANT Project  - "An inclusive peer-to-peer approach to involve EU CONURBations and wide areas in participating to the CovenANT of Mayors" an Intelligent Energy Europe project which helps Municipalities understand the benefits of making cities cleaner, support Municipalities in developing their Sustainable Energy Action Plans, create sustainable relations between small, medium and large EU cities, show Municipalities that their role for our greener future is crucial and involve local political decision makers and other stakeholders.
Together with the conference, between 18 and 20 June, in the Polyvalent Room of the Regional Business Center in Timisoara (CRAFT),  Romanian Sustainable Energy  Cluster ROSENC, with the support of the Chamber of Commerce and Industry Timiş, with participation of Timişoara Municipality will organize the  sixth edition of the Fair "The Energy of the Future", and the first edition of the  exhibition "The city of tomorrow",  to promote renewable energy and  energy efficiency.
Through  all TIMIŞOARA ENERGY DAYS 2012  events and activities connect directly with citizens and energy stakeholders at the local, regional and national levels, we will promote energy efficiency and renewable energy sources.
Link: http://www.dmmt.ro/modules.php?module=news&id=233&lg=ro
Files