Fifth edition of the Fair "Alba Local Energy Agency 2012. Fair equipment and comprehensive services"
01/10/2012
User: Municipality of Alba Iulia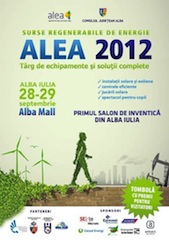 On 28-29 September 2012, was held the fifth edition of the Fair "ALEA 2012. Fair equipment and comprehensive services". The fair is an important step towards developing the local market in a small scale applications targeting renewable energy and interest both the general public and companies and institutions, potential users of such systems.
During the two days of the fair will be exposed to wind, solar, heat pumps, turbines for small hydro, biomass boilers for many other applications related to energy from renewable sources to facilitate the public in our county a direct link technologies on this field. The exhibition was arranged in Alba Mall in the central hall and the adjacent galleries. This allowed a very good organization stands and heavy traffic of visitors.
A key attraction was years past (and will be again this year) a dedicated lounge to inventors led by Justin Capra, one of the former employees of Henri Coanda (a RO famous inventor ant scientist). This year, the salon called "ECOINVENT" allowed Romanian inventors to present their creations focused on energy efficiency and related fields energy.
Alba Iulia, CONURBANT project partner and founding member of ALEA, supporter of the event, attended by qualified personnel designated to organize the event and discussions with fair participants.
ALEA is a reliable partner for Alba Iulia Municpality, which provided technical assistance to the municipality at SEAP elaboration, but is also involved now  in the realization of projects under the SEAP.
More – www.alea.ro
În perioada 28-29 septembrie 2012, va avea loc cea de-a cincea ediţie a Târgului "ALEA 2012. Târg de echipamente şi servicii complete".  Târgul reprezintă un pas important către dezvoltarea pieţei locale în domeniul aplicaţiilor la scară mică vizând energia din surse regenerabile şi interesează atât publicul larg, cât şi firmele şi instituţiile, potenţiali utilizatori de astfel de sisteme.
Pe durata celor două zile ale târgului au fost expuse instalaţii eoliene, panouri solare, pompe de căldură, turbine pentru microhidrocentrale, centrale termice pentru biomasă şi multe alte aplicaţii legate de energia obţinută din surse regenerabile pentru a facilita publicului din judeţul nostru o legătură directă cu tehnologiile legate de acest domeniu. Expoziţia va fi amenajată la Alba Mall, în holul central şi pe galeriile adiacente. Aceasta permite o organizare foarte bună a standurilor precum şi un trafic intens de vizitatori.
Un element de atracţie a fost anii trecuţi (şi va fi şi în acest an) un salon dedicat inventatorilor coordonat de Iustin Capră, unul dintre foştii colaboratori al lui Henri Coandă. Din acest an, salonul poartă numele de "EcoInventica" şi va reuni inventatori români care vor avea ocazia să îşi prezinte creaţiile axate pe eficienţa energetică şi alte domenii conexe domeniului energiei.
Municipiul Alba Iulia, partener în proiectul CONURBANT  și membru fondator al ALEA, susținător al acestui eveniment, a participat cu personal de specialitate desemnat la organizarea evenimentului și discuțiile cu participanții la târg.
ALEA reprezintă un partener credibil pentru Municipiul Alba Iulia, care a asistat tehnic elaborarea SEAP de către Primărie, dar care este implicată, în prezent și în materializarea proiectelor prevăzute în SEAP.
More - www.alea.ro