Launch of energy forums in Latvia
29/11/2012
User: Ekodoma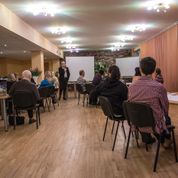 On 28 November first energy forum in Latvia was held. It was organised in the Conurbant partner municipality - Salaspils. The event was successful as it was attended by more than 20 stakeholders and mayor and provided good results.
The event was moderated by journalist Haralds Burkovskis. Representatives of the municipality, Ekodoma and stakeholders were divided into three groups and invited to discuss about the three most important topics in Salaspils: energy efficiency in buildings; lighting and transport. The outcome of the forum is list of different measures that municipality can include in the SEAP.
Energy forums in Conurbation towns will follow shortly. The next energy forum will be held on 29 November in Ikskile, on 4 December in Ogre, but in Kegums and Lielvarde on 11 and 13 December, accordingly.