Timisoara Municipality participation to the Local Energy Leadership Contractors Meeting
28/06/2012
User: Primăria Municipiului Timişoara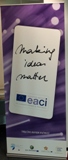 On 28 June 2012, a member of the CONURBANT Project implementation team, as representative of Timisoara Municipality, participated at the meeting "Local Energy Leadership Contractors" organised at the European Agency for Competitiveness and Innovation from Brussels, Belgium.
 The participants in the event came from large European municipalities like Barcelona, Berlin, Cornwall, Genova, Vienna, Gelderland District as well as from European associations and networks that are involved in projects funded by the Intelligent Energy Europe Programme: EUROCITIES, ENERGY-CITIES, FEDERANE, ISLENET, CLER, CLIMATE ALLIANCE, ICLEI, B&S.U. ISLENET.
 The event provided the opportunity for the attendees to learn and share their views on the activities performed by the projects funded under the second Intelligent Energy Europe Programme and addressing sustainable energy aspects in local and regional public authorities. The event enabled open discussion on the current and future needs and expectations of public authorities in terms of energy planning and financing as well as on how European funding streams can best respond to these.
 The representatives of the organisers - Vincent Berrutto, William Gillet, Anette Jahn, Waltraud Schmid, Valérie Benard, Martin Eibl, Stephan Renner, Adrien Bullier and Gordon Sutherland on behalf of EACI - made presentations on the activities developed within the frame of IEE II at local and regional level, presented the new directive on energy efficiency as well as the funding opportunities for projects based on sustainable energies.
 The thematic groups organised on: Capacity Building, Policy Support and Financing were meant to reveal the expectations and requirements of local and regional authorities concerning energy planning and the financing of the projects as well as the way in which EU, through IEE III will be able to fulfil these requirements.
 Overall, the event was fruitful, providing an opportunity to discuss, to share experiences, to reveal success stories and to highlight equally the legal, political and institutional barriers in the participants' activity.
 Special attention was given to obstacles in funding projects on sustainable energy during this austerity period, to the relationship with the bank system and to the necessity of building capacity on financing sustainable energy investments at local level, to extend Project Development Assistance and to create a Financing Facilitation Office.
 The conclusions of this event will be taken into consideration during the stages of preparing the new IEE III Programme.
Link: http://ec.europa.eu/energy/intelligent/files/events/doc/contrmeetings/28_06_2012_lel_contractors_minutes.pdf
Files