Vicenza Local Energy Forum - Sharing SEAP ideas with local stakeholders
31/12/2012
User: Municipality of Vicenza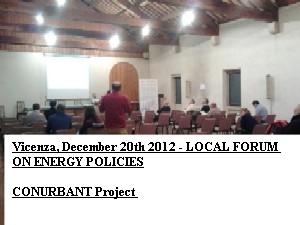 The second Local Energy Forum  for the Municipality of Vicenza  was held on 20th  December 2012 in Vicenza.
The event was organised in order to involve the local stakeholders in a participatory approach to PAES redaction and it was attended by 23 participants – Deputy mayor, Environment Department Director, public servants and stakeholders representative, providing constructive results.
The Forum was moderated by the Environment Department Director and the Baseline and SEAP proposal were presented by the technical partner Sogesca.   
The event provides the opportunity to present to participants an overview of CONURBANT project, its activities, objective and goals, to remind all the activities (realized and  proposed) in the frame of projects and to prepare the participants to have inputs in defining objectives, proposals for measures and actions for the  draft of Sustainable Energy Action Plan.
After a detailed presentation of the Baseline Emission Inventory, developed for Vicenza, the  relevant sectors, responsible for massive CO2 emissions, the main areas of intervention and  the further steps in  SEAP development were presented.
Vicenza Municipality team members asked to participants to reveal and launch the best ideas, to propose and promote activities in the field of sustainable energy at local level.
The outcome of the forum is a list of different measures  and actions which the Municipality of Vicenza will discuss and will evaluate the inclusion in its Sustainable Energy Action Plan:
The next LOCAL ENERGY FORUMS will take place in VICENZA CONURBATION TOWNS and will be organised within the end of March 2013 in:
Monticello Conte Otto, Sovizzo and Creazzo together and finally Arcugnano.
Files