Vicenza presents Conurbant Project during "M'Illumino di meno" 2013
14/02/2013
User: Municipality of Vicenza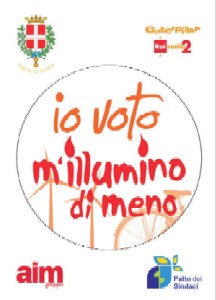 Even this year the City of Vicenza is joining "M'illumino di meno", the national event organized by Caterpillar, well known broadcast on Rai Radio 2, to mark the anniversary of the Kyoto Protocol. Friday, February 15 in Vicenza you will then have a real "Feast of the energy savings." Heart of events will be Piazza dei Signori, where from 10 a.m. to 8 p.m. will alternate events designed to highlight the city's commitment with respect to the major issues of energy saving and the reduction of greenhouse gas emissions, but also the need for large-scale projects to be accompanied by small daily actions of every citizen.

The timing of the initiatives put in place were thinked by the environment Councillor Antonio Dalla Pozza, with its staff and the European polices office; along with some of the organizers at the press conference were presented some partners of the Municipality of Vicenza within the European project Conurbant, Daniela Luise, Informambiente director of the Office of the Municipality of Padua, and a Spanish delegation from the city of Palma de Mallorca.

"We agree with a lot of conviction to the initiative of Caterpillar - said Dalla Pozza - because that energy saving has become the main theme at the European level and will become more and more even for Italy an actual perspective for growing in the green economy . Vicenza still doing its part: we have recently approved the plan of enlightenment for the containment of light pollution and Thursday, February 14 the Sustainable Energy Action Plan will go to city council approval".

The proposals of the city of Vicenza "M'illumino di meno 2013" take off with the "Mayor for Energy": from 10.30 a.m. until 12.30 and from 5 p.m. to 7 p.m. people are invited to go up on the stage in streets and to tell their idea about ​​energy saving. In particular, they will be asked to comment about their commitment to energy saving and how should the city act in order to become more energy sustainable. The contribution of each citizen will be videotaped for later make a video with the participation of citizens of other eight  European cities (from Osijek in Croatia to Salaspils in Latvia) partner with Vicenza on the Conurbant project. It is in fact an event organized in collaboration with the European polices Office within the European project Conurbant, supported by the European Agency Intelligent Energy Europe.
Link: http://www.comune.vicenza.it/albo/notizie/notizie.php/78353i