2013 Energy Day in Palma
05/06/2013
User: Municipality of Palma Mallorca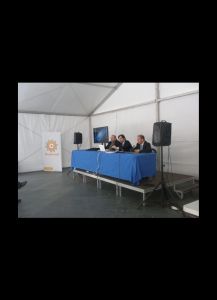 During the Environment World Day, the City Hall of Palma de Mallorca had organized the 2013 Energy Day.
The event was held in a central square in the city centre. The Environment Area in the framework of the Conurbant project proposed two areas to celebrate it.
The first area has been a meeting place where the Environment Councillor had the opportunity to speaking about all the municipal efficiency energy projects. In the same place, but after time, the Mobility Councillor from the Municipality of Palma as well, had a presentation about Civitas project (Sustainable mobility). And the next and last speach was the General Director of Energy from the Balearic Island Government, who spoke about efficiency energy and futures plans or programs about efficiency energy projects.
The Municipality of Palma took the opportunity to presenting draft SEAP.
The second area has been a small exhibition centre, open to all citizens, where exposed all municipal efficiency energy projects which will carried up within the SEAP, from the Environment Area of the City Hall of Palma.
The day was a complete success.