The project
CONURBANT starts from the consideration that EU small towns face strong difficulties in energy management and planning because of their lack of skills and resources, while medium and large cities have a higher responsibilityrelated to higher density of human activities to more complicated issues of sustainable land using and planning and mobility.
The CONURBANT project aims at helping medium-large cities, and the smaller towns in their urban area, through capacity building using peer-to-peer support  and training between less and more experienced Municipalities, in the framework of the CoM.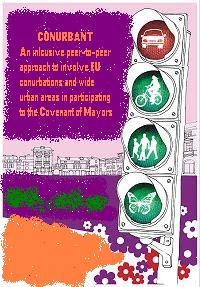 8 Trainee cities (with total population of over 2 million citizens) and 2 Tutoring cities in 7 countries (IT, ES, HR, CY, LV, RO, BG).
Trainee cities and 40 conurbation towns (with a total population of ca. 350.000) are involved in centralised and local training actions and supported in the development and actual implementation of their SEAPs.
Trainee cities will be supported by 5 Technical advisors in 5 countries (IT, ES, CY, LV, BG).
Have a look at the Conurbant Newsletter to have more information about the project.